Creative Director/Fine Artist/Muralist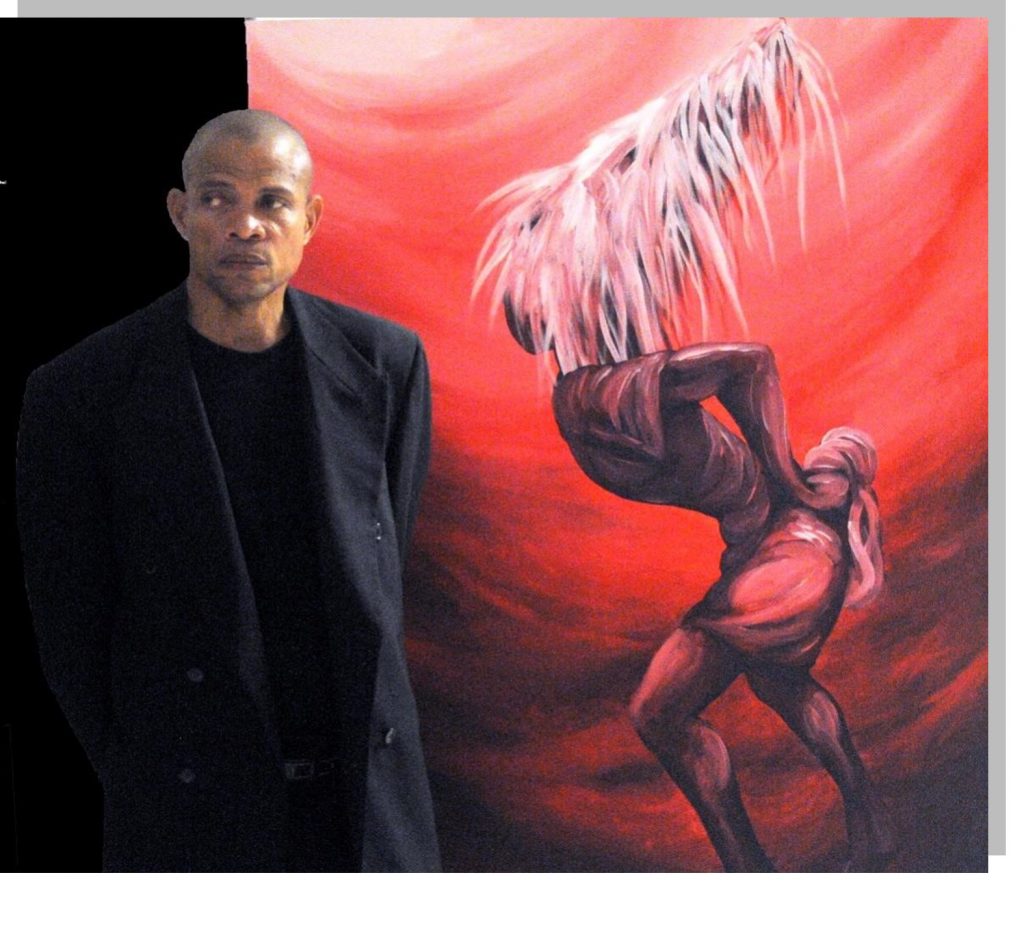 The Alwyn St. Omer PORTFOLIo
Born at Castries, Saint Lucia in 1958, Alwyn St. Omer was inspired by the work of his father, the late Sir Dunstan St. Omer a widely acclaimed international artist of Saint Lucian origins and by his mother Cynthia, a secretary in the Prime Minister's office. she encouraged him by providing a regular supply of art materials. Alwyn was also inspired by the plentiful supply of picture books around the house and at about age six, was introduced to Comics, including the Illustrated Classics, which fueled his appetite, not only for graphic design, but also for folktales and storytelling in a pictorial format.
Growing up in an artistic environment with nostrils tuned to oil paints, provided further stimulus. As a young aspiring artist Alwyn was also privileged to witness plays performed by a famous local theatrical company, the Saint Lucia Arts Guild, adding a dimension of realism to what he saw and read in the comics. He was enamoured by plays steeped in the island's rich folk and musical traditions that included some of the early works of the island's Nobel Laureate, poet Derek Walcott and his playwright, twin brother Roderick. It is from this launching pad that young Alwyn, budding artist and storyteller was thrust into orbit, a creative artist with very deep passion and lifelong desire to document his island's cultural heritage through his drawings and paintings.
For him rediscovery and preservation of all the treasures forming the formidable expanse loosely termed Saint Lucian folklore would be his life's achievement. Its art, myths, writings and traditions, it's National Theatre, all housed in one monumental edifice. By extension the St. Omer family is well known in art circles and widely considered the leading family of painters in Saint Lucia. They may well be a unique artistic family anywhere in the Caribbean and the world. Alwyn studied Art at the Edna Manley School for Visual Arts in Jamaica and Video production and Audio Visuals at Portsmouth College in England.
His work includes the design of Saint Lucia's National Independence Monument and the "Moon Dancer" Masquerade series of paintings. An attempt in painting, to revive interest in and to Save the lost Masquerade tradition, as a medium to acknowledge the islands rich biodiversity and to promote the concept for the preservation of our natural and cultural heritage. He is a Director of St. Omer Art Institute, with a list of publications under his belt, including Sands Tourism Magazine, the CIMPEX Home Companion Magazine and the Wakonté series of children's colouring books and comics. A former Television Producer and Carnival Band Leader and Designer. As a painter, Alwyn also specializes in Abstract Art, landscape Paintings and Murals.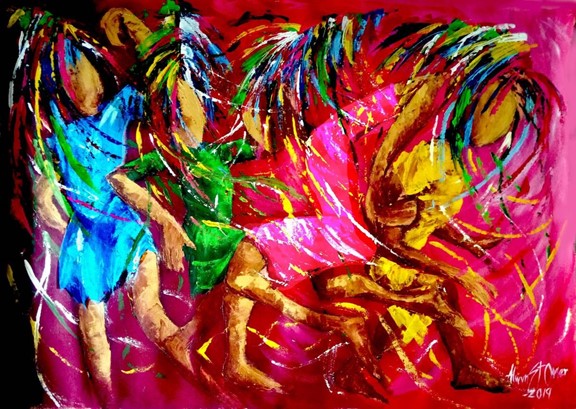 Painting: "Adan sé moun-an ka dansé, mé adan yo ka pléwé." (Translation from St Lucian Kwéyòl, "Some of the people are dancing but some of them are weeping".) Moon Dancers, an abstract painting done in acrylic on canvas, by Alwyn St Omer, size 3ft x 5ft.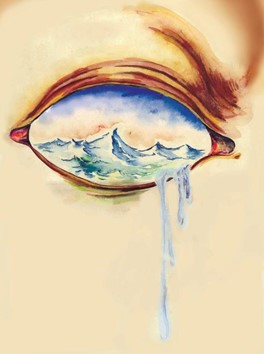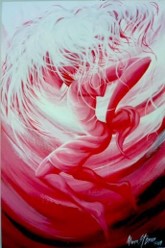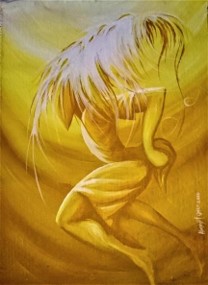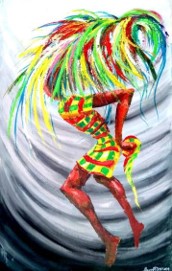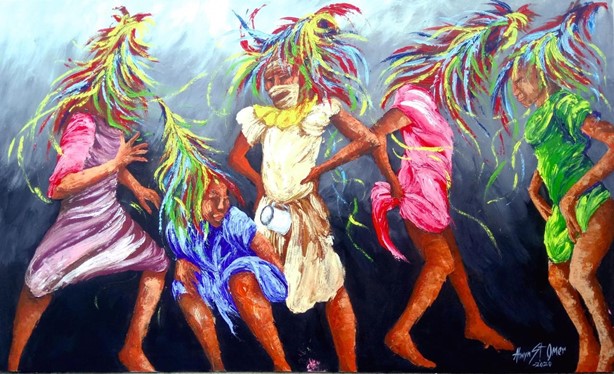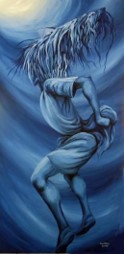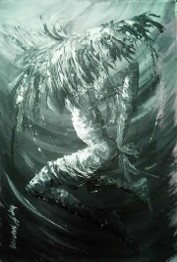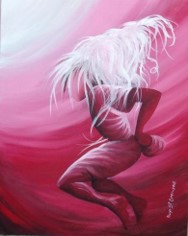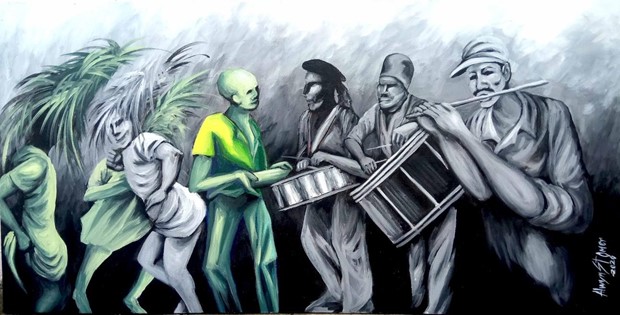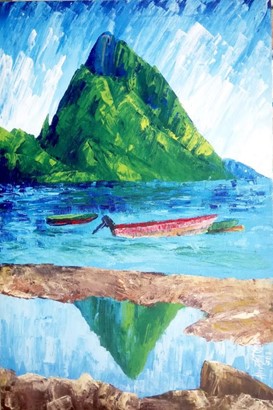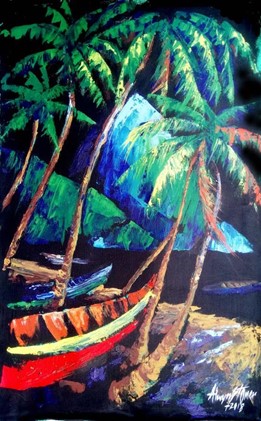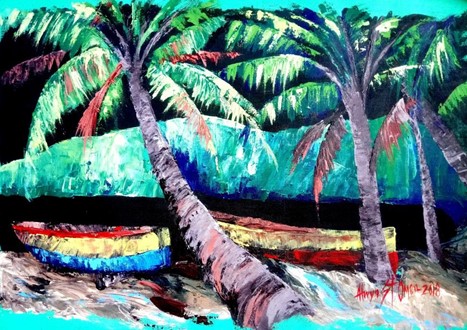 MERINE CREATURES & THE SEA: